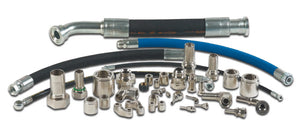 Elevate Your Equipment with Top-Notch Hydraulic Hoses from McDonough Equipment & Attachments
In the world of heavy machinery and industrial equipment, the key to reliable performance lies in the quality of every component. Among these critical parts, hydraulic hoses play a pivotal role, serving as the arteries of power and precision. When it comes to sourcing hydraulic hoses you can trust, look no further than McDonough Equipment & Attachments, LLC. In this blog post, we'll delve into why choosing McDonough Equipment & Attachments, LLC for your hydraulic hose needs is a smart move that elevates your equipment to new heights of efficiency and reliability.
Unwavering Commitment to Quality
At McDonough Equipment & Attachments, LLC, quality isn't a mere promise; it's a cornerstone of our business ethos. When you invest in hydraulic hoses from us, you're investing in hoses engineered to meet and exceed industry standards. Our hoses are crafted to withstand the demanding conditions of heavy-duty applications, ensuring durability and dependability. We understand the financial toll that downtime can take, which is why our hydraulic hoses are built to minimize the risk of leaks and failures, offering you peace of mind and uninterrupted operations.
Vast Inventory to Meet Your Needs
Our pride lies in maintaining one of the most extensive inventories of heavy-duty equipment and components, including hydraulic hoses. Regardless of whether you require hoses for construction machinery, agricultural equipment, or industrial use, our vast selection ensures you can find the perfect hydraulic hose to match your specific requirements. This extensive inventory is complemented by our team's expertise and deep industry knowledge.
Local Accessories for Added Convenience
Your hydraulic system may demand more than just hoses. McDonough Equipment & Attachments, LLC takes your convenience seriously by offering local accessories like hydraulic oil and hoses. This means that when you need these essential components, we have them readily available, sparing you the hassle of sourcing from multiple suppliers. We aspire to be your one-stop shop for all things related to heavy equipment.
Customer-Centric Approach
Our business philosophy is centered on customer satisfaction. We recognize that each customer's needs are unique, and our team is ready to assist you in selecting the ideal hydraulic hoses for your specific machinery. Whether you have questions, need guidance, or require recommendations, our knowledgeable staff is here to provide expert assistance.
Efficient Shipping and Convenient Location
In today's fast-paced world, convenience is a premium. McDonough Equipment & Attachments, LLC is conveniently located at 1950 Hwy 42 South in McDonough, Georgia, open from 8 AM to 5 PM, Monday through Saturday. If you're not in our local vicinity or can't visit our physical location, our shipping services ensure that your hydraulic hoses are delivered to your doorstep swiftly and securely.
Conclusion
When it comes to sourcing hydraulic hoses for your heavy machinery and equipment, McDonough Equipment & Attachments, LLC emerges as the trusted partner you can rely on. Our unwavering commitment to quality, expansive inventory, local accessories, customer-centric approach, and convenient location make us the ultimate choice for all your hydraulic hose needs. With McDonough Equipment & Attachments, LLC, you're not just purchasing hydraulic hoses; you're investing in the reliability and performance of your machinery, taking it to new heights of efficiency and dependability. Pay us a visit today and experience the difference in quality and service that sets us apart. Your equipment deserves nothing less.
---