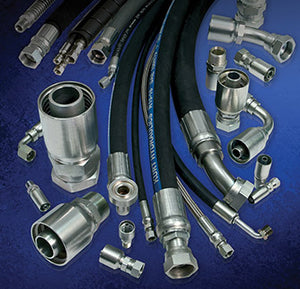 Power Your Machinery with Confidence: Why You Should Buy Hydraulic Hoses from McDonough Equipment & Attachments, LLC
n the realm of heavy machinery and industrial equipment, the quality of components is paramount. Among these critical components, hydraulic hoses stand out as the lifelines of power and precision. When it comes to purchasing hydraulic hoses, you want a supplier you can trust, and that's where McDonough Equipment & Attachments, LLC comes into play. In this blog post, we'll explore the compelling reasons why choosing McDonough Equipment & Attachments, LLC for your hydraulic hose needs is a decision that powers your machinery with confidence.
Quality Assurance
At McDonough Equipment & Attachments, LLC, quality is not just a buzzword; it's a commitment. When you purchase hydraulic hoses from us, you're investing in hoses that meet the highest industry standards. Our hoses are engineered to withstand the rigors of heavy-duty use, ensuring longevity and reliability. We understand that downtime can be costly, which is why our hydraulic hoses are built to minimize the risk of leaks and failures, giving you peace of mind and uninterrupted operation.
Extensive Inventory
We take pride in maintaining one of the largest inventories of heavy-duty equipment and components, including hydraulic hoses. Whether you need hoses for construction machinery, agricultural equipment, or industrial applications, we have you covered. Our extensive selection ensures that you can find the right hydraulic hose for your specific needs, backed by our expertise and industry knowledge.
Local Accessories
Your hydraulic system may require more than just hoses. McDonough Equipment & Attachments, LLC goes the extra mile by offering local accessories such as hydraulic oil and hoses. This means that when you need these essential components, we have them readily available, saving you time and effort in sourcing them from multiple suppliers. We aim to be your one-stop resource for all things related to heavy equipment.
Customer-Centric Approach
Customer satisfaction is at the core of our business philosophy. We understand that every customer's needs are unique, and our team is here to assist you in finding the right hydraulic hoses for your specific machinery. If you have questions or require guidance, our knowledgeable staff is ready to provide expert advice and recommendations.
Convenient Shipping and Location
Convenience is key in today's fast-paced world. McDonough Equipment & Attachments, LLC is located at 1950 Hwy 42 South in McDonough, Georgia. We're open from 8 AM to 5 PM, Monday through Saturday. If you're not local or can't make it to our physical location, we offer shipping services to ensure your hydraulic hoses reach you promptly and securely.
Conclusion
When it comes to purchasing hydraulic hoses for your heavy machinery and equipment, McDonough Equipment & Attachments, LLC stands as a trusted partner. Our commitment to quality, extensive inventory, local accessories, customer-centric approach, and convenient location make us the ideal choice for all your hydraulic hose needs. With McDonough Equipment & Attachments, LLC, you're not just buying hydraulic hoses; you're investing in the reliability and performance of your machinery, powering it with confidence. Visit us today, and experience the difference of quality and service that sets us apart.
---