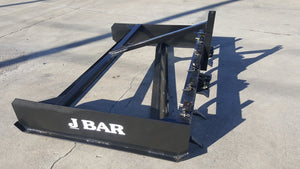 Tractor Implements | Land Plane
McDonough Equipment recently has become a dealer with
J Bar Manufacturing
.  J Bar manufactures Rotary cutters, box blades, scrape blades, landscape rakes, disc harrows, hay spears, land planes, boom poles, forks, quick attach products, tillers and finish mowers.  One of our newest products we have been selling from J Bar's line is the Land Planes.  We sell
Land Planes with Rippers
and
Land Planes without rippers
.  Lane planes 
is ideal for smoothing and assisting in rebuilding the crown of driveways. The land plane eliminates potholes and other problems in hard packed driveways.  
Rippers are used to break the dirt up.  Want that smooth dirt or gravel driveway look without pot holes?  This is the implement that will save you hours out of your day repairing and refreshing your dirt driveway.  It also smooths out leveling a horse arena or garden.  


McDonough Equipment & Attachments
sells affordable Commercial Grade Skid Steer Attachments and other Tractor equipment implements. All products are Made in the USA! We have a friendly staff located in McDonough GA. Here at McDonough Equipment we strive to be the best and are a proud veteran owned business. The result of our dedication to quality, value, and customer service has lead to our amazing reviews. McDonough Equipment has the largest inventory in the South East! Customers can shop at www.EquipmentAttachmentSales.com or in our McDonough store.
We are located at 1950 Highway 42 South, McDonough GA
Call us at:  678-782-5931
Email at:  mcdonoughequipment@gmail.com
---
4 comments