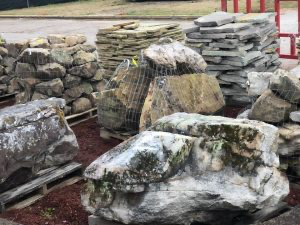 Landscape Supply | Boulders
Natural Stone Boulders are a big seller in most homes.  We have several options when it comes to Boulders. We have some that you can pickup with just one person, however we also some that require a machine to lift the boulder.   Come to our store at 1950 Hwy 42 South in Mcdonough and one of our educated sales associates will help you pick out a boulder that fits your needs.
What are boulders used for?  Boulders can be used for a number of different reasons.  Whatever the reason, boulders can really make a statement!
*water features
*pools
About Us:
Mcdonough Equipment and Attachments sells affordable Commercial Grade Skid Steer Attachments and other Tractor equipment implements. All products are Made in the USA! We have a friendly staff located in McDonough GA. Here at McDonough Equipment we strive to be the best and are a proud veteran owned business. The result of our dedication to quality, value, and customer service has lead to our amazing reviews. McDonough Equipment has the largest inventory in the South East! Customers can shop at www.EquipmentAttachmentSales.com or in our McDonough store.
We are located at 1950 Highway 42 South, McDonough GA
Call us at:  678-782-5931
Email at:  mcdonoughequipment@gmail.com
---