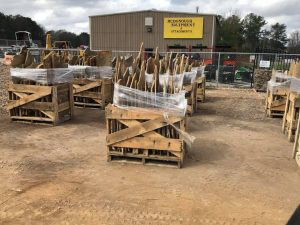 Landscape Supply | Flagstone
Flagstone is a very decorative natural stone.  Landscape Supply | Flagstone is used for pools, decks, kitchens, walls, edging, stairs, steps, walk ways, stepping stone, and so much more.  It serves in any number of creative home and garden uses.  They are the #1 paving stone!  We carry these Flagstone stones in many thicknesses for all potential uses.   We have a huge selection to choose from, you can purchase by the piece or by the entire pallet. You can choose the exact pallet of flagstone to fit your vision for roughly 18 cents a pound.  Stop by our store and see all the other amazing landscape supply products we offer.  We can deliver to your house if you live locally or your landscape supply items can be picked up at 1950 hwy 42 South in McDonough GA.   You can also check out our Facebook page for new products and availability.
What kind of rock is Flagstone?  Flagstone is a sedimentary rock that is split into layers along bedding planes. Flagstone is usually a form of a sandstone composed of feldspar and quartz and is arenaceous in grain size (0.16 mm – 2 mm in diameter). The material that binds flagstone is usually composed of silica, calcite, or iron oxide.
About Us:
McDonough Equipment & Attachments sells affordable Commercial Grade Skid Steer Attachments and other Tractor equipment implements. All products are Made in the USA! We have a friendly staff located in McDonough GA. Here at McDonough Equipment we strive to be the best and are a proud veteran owned business. The result of our dedication to quality, value, and customer service has lead to our amazing reviews. McDonough Equipment has the largest inventory in the South East! Customers can shop at www.EquipmentAttachmentSales.com or in our McDonough store.
We are located at 1950 Highway 42 South, McDonough GA
Call us at:  678-782-5931
Email at:  mcdonoughequipment@gmail.com
---