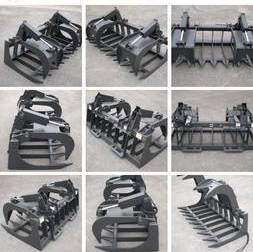 McDonough Equipment Products are made in the USA!
One of the things we pride ourselves on, is that we sell products made in the USA. At McDonough Equipment and Attachments, we offer tractor equipment and skid steer attachments. Quality is what we're all about, both in the products we sell and the service we provide.
McDonough Equipment and Attachments is a veteran-owned business, and our customers give us high ratings when it comes to value and service. We wouldn't settle for anything less. Our customers are our priority.
You can find us at Highway 42 South in McDonough, Georgia. If you haven't been here yet, be sure to check us out as we have the largest inventory in the Southeast!
If you need heavy-duty, versatile attachments, we should be at the top of your list. You can't go wrong. We'll make sure you get not only what you need but do it with a smile.
Whether you're looking for hay spears, brush cutters, stump buckets, tillers, or buckets, we've got you covered. And that's only a small list of what we offer. You've got to see it to believe it. Can't get out to McDonough? Well, we're happy you found us online, because now you can get a glimpse of what we offer and why we're worth the trip.
Not only do we offer heavy equipment attachments, but you can get local garden supplies while you're here. You'll find straw, boulders, fill dirt, mulch, sand, and crush and run for all your landscaping needs.
If you have any questions, feel free to contact us at 678-782-5931 or use our contact form.
While you're here, don't forget to check out our new items, along with customer favorites.
Need accessories? We've got those, too. You'll find tires, tracks, grease, bearings, hydraulic hoses and oil, along with other necessities. Stop by and check us out. We'd be glad to help you with all of your equipment needs.
---