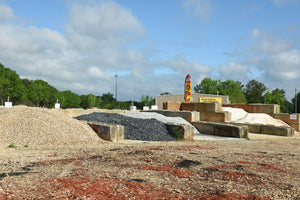 McDonough Equipment sells Landscape supplies locally!
You're getting ready to tackle your latest landscaping project, but just realized buying things like mulch by the bag is either going to be too costly or a hassle. Especially when you need a lot. That's where we come in. When you have a larger project you want to handle, McDonough Equipment and Attachments is the place to go. Not only are we a veteran owned business, but we offer service with a smile, quality and value.
Thinking about expanding your driveway? Crush and run, which is quarry process stone, is a great topper for your driveway project. Imagine all the bags it would take from your local home goods store! Instead, what you can do is either buy it buy the skid steer bucket load or have it delivered. We can do both to help you with these larger quantities.
Do you live locally? If you're near McDonough, Stockbridge, Locust Grove, Jenkinsburg, Jackson and Covington, you're in luck. We've got all the landscaping supplies you'll need for your projects, whether you're a weekend warrior or have a big job to tackle.
Need mulch? We've got it in black, red, or brown. We've also got pine bark and pine straw. What about patios or walkways? Yep. We've got those supplies too. We've got boulders, field stone and flag stone, along with pea gravel, natural river rock, gravel, slate chips, lava rock, cannon balls and more.
If it's fill dirt or sand you need, we've got that too. We're your one-stop shop when it comes to local landscaping supplies. Most importantly, if you aren't able to pick up the quantity that you need, we'll deliver it to you for a fee. Just be aware that our landscape supplies are not shippable, and we supply them for local jobs.
When you're ready to get started, drop by our store or give us a call at 678-782-5931 for more information.
---
3 comments