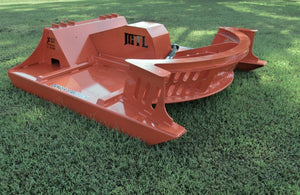 The XC7 Brush Cutter Extreme is a Versatile, Heavy-Duty Workhorse
If you're in the market for a skid steer attachment that can get the job done, the XC7 Brush Cutter Extreme is up for the task. This heavy-duty Workhorse piece of equipment offers a solid steel deck plate, along with a push-bar for your land clearing and brush destroying needs.  The MTL Attachments XC7 Xtreme Cutter is an unbelievable land clearing machine. 
Use the MTL Attachments Xtreme Cutter to clear property line, gas lines, and building lots. 
The MTL-X is capable of cutting up to 7" diameter trees. 
The MTL-X Cutter features a TRUE DIRECT DRIVE motor system, which means there are no belts, chains with gears to break. 
Solid steel deck plate with Custom extra heavy duty push bar and open face front.
Plus angled steel inside runner on each side.
Complete with hoses & Couplers
McDonough Equipment & Attachments sells affordable Commercial Grade Skid Steer Attachments and other Tractor equipment implements.  All products are Made in the USA!  We have a friendly staff located in McDonough GA.  Here at McDonough Equipment we strive to be the best and are a proud veteran owned business.  The result of our dedication to quality, value, and customer service has lead to our amazing reviews.  McDonough Equipment has the largest inventory in the South East!   Customers can shop at EquipmentAttachmentSales.com or in our McDonough store.
We are located at 1950 Highway 42 South, McDonough GA

Store: 678-782-5931
Maybe your schedule doesn't allow you to make it to us during our normal business hours. Reach out to us, and we'll arrange to meet you after hours or on the weekend. We'll go above and beyond to be your favorite heavy equipment and attachment dealer, because we take pride in being the best. Let us show you how.
Don't forget to check us out on Facebook and read our customer reviews. You'll see for yourself comments about our friendly service and great prices. Value, quality, and service. We hope to see you soon
.
---
7 comments